The Wrestler (2008) ****
February 19, 2009
written by: Robert D. Siegel
produced by: Darren Aronofsky & Scott Franklin
directed by: Darren Aronofsky

rated R (for violence, sexuality/nudity, language and some drug use)
115 min.  
U.S. release date: December 19, 2008 (limited) & January 23, 2009 (wide)
DVD & Bluray release date: April 21, 2009
Randy 'The Ram' Robinson (Mickey Rourke) is a pro wrestler in the twilight of his career who is physically and emotionally beaten. Back in the 80's, he was a top stadium draw  and now Randy barely makes it on the junior circuit with matches held in grade schools, American Legion halls and random civic centers. While he may be adored by his surrounding up-and-coming wrestlers, none of them know that he lives out of his van when he can't afford to pay for his rented trailer and that he regularly pops pain meds to cope with a lifestyle that he physically cannot afford. Randy knows no other life though and it isn't until he receives a wake-up call in the form of a serious health scare that he begins to face the stark reality of who and where he is.
As he attempts to reassess his life, Randy finds out the hard way how two decades worth of hard-living leaves him alone and with little options. He's told by a doctor he will never wrestle again which is something this hulking brute can't comprehend. He's relegated to the quiet, gentle shell of a man and it's clear that what he sees in the mirror is uglier than the beat-up face staring back at him. He is a haunted man full of regret, despair and loneliness. The only friend he has left is a middle-age stripper, Cassidy (Marisa Tomei), who can't decide whether or not to let this guy cross the line from anything other than customer. She may have the same affinity for big-haired metal bands as Randy does and they have some laughs together but unlike him, she is obligated by responsibility which grounds her in reality.
We find that Cassiday is actually Pam, a single-mother trying to get out of her sleazy vocation and provide a better life for her son. She does her best to politely turn down his flirtatious advances while encouraging Randy to reconnect with his estranged teen daughter, Stephanie (Evan Rachel Wood), who grew up without a father. For Randy, trying to face his failure as a father  is more frightening than facing anyone monster in the ring. Stephanie doesn't make it any easier for him and justifiably so. He knows he deserves all the anger and bitterness that comes with any attempted reconciliation yet it doesn't make the pain go away.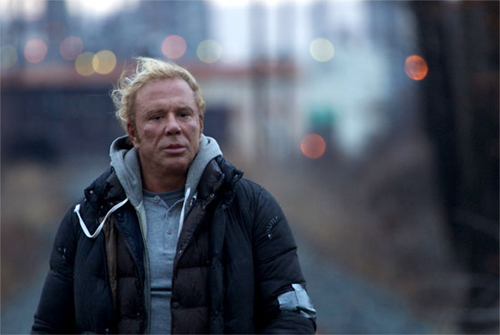 Despite this pain, Randy yearns for redemption and tries to turn his life around. He starts to turn down wrestling matches in an effort to follow through with this life change. He gets more hours at his supermarket day gig, even working behind the deli counter and appears to be content with his life's new direction, but old habits die-hard. His personal life unravels just as it is coming together, which compels him back into the ring. He jeopardizes everything and commits to a 20th anniversary re-match against his arch nemesis The Ayatollah.
Coming off the indie-epic "The Fountain", director
Darren Aronofsky
seems to be returning to his "Requiem for a Dream" roots with this raw look at a depressing character barely making it in the harsh world of wrestling. For a good part of the film, the camera is over-the-shoulder of The Ram which is effective in giving us a look at what he sees and the inhabitants of his world. This approach as well as the stark New Jersey locales give an almost documentary feel, as if a crew is following around Randy in a "where are they now" fashion. It's a style that works well and serves to the tone of both the characters and the story.
Aronofsky authentically captures the life of these wrestlers, from their pre-fight locker room banter to all the gory details involving the absurd techniques used. But the film belongs to Mickey Rourke and the director knows it. While there were a couple other actors Aronofsky had in mind for the role of The Ram, it's clear that this is definitive casting for Rourke. His portrayal of "off-the-mat" Randy is every bit as engaging as The Ram in his longing for companionship as we see him challenge a neighbor kid in the trailer park to an old Nintendo wrestling game or his entertaining "performance" behind the deli counter at the grocery store. It's The Ram the people love though, so it is The Ram we see divulge in a steady diet of booze, blow and steroids. Rourke really does some amazing work here and there is no doubt that's due to the close resemblance of the role to his off-screen life that which he's barely survived for the past 18 or so years. I've been a fan of his work from the 80's for some time and longed to see him back in worthy roles, giving it his all, but have only subpar supporting roles really stood out. Rourke admits that his hard-living for so many years had all but diminished any change of resurrecting his acting career and he was about to accept that until Aronosfky came knocking.
In a movie about attempted redemption, the supporting cast must play an integral part of either helping or hindering the protagonist. As Cassidy, Tomei provides friendship and, uh, "entertainment" for Randy yet her priorities are clearly taking care of her son and that entails maintaining a professional persona that sha can't afford to be compromised. Tomei is best when we see less of her routine and more of the realization her character faces that she isn't getting any younger and that a sweet guy like Randy might not be that bad to be with after all. Like Rourke's depiction of Randy off the mat, I much preferred Tomei when she wasn't gyrating on stage. Her eyes, similar to Rourke's portray a character struggling with who she is. The only difference is hers is less self-destructive path.
If the movie has a flaw it's Wood's performance as the estranged daughter. I usually like Woods as an actress but her character here seems kinda stereotypical, one-dimensional and well, at times…wooden. The whole subplot of Randy trying to reconnect with her after his health scare seemed a bit rushed to me. The one, very emotional scene between the two of them at a decayed Asbury Park was excellent and really all I needed.  Everything else seemed a little forced and clichéd. In my eyes, they fell back together too quickly and were ripped apart again in just the same fashion. It's unclear what could have prevented this as I do believe that her character is important to Randy's journey, maybe the best thing to have done was to just leave their relationship unresolved.
The wrestling in the movie is intentionally far from the professional polish you see on television now. After all, this is the tale of a former star toiling within a group of second-rate wrestlers trying to maintain his big time status. Some fight scenes were a bit jarring and over the top but at the same time they were necessary. When we see his hulking body slumped over a chair in a locker room after a fight, breathing heavy while a tending physician tries to remove metal staples out of his battered body….it's clear how far Randy's willing to go. The film is depressing but Rourke never really makes Randy feel sorry for himself. He knows he's at where he is because of his own doing and also that it's unlikely he'll have anyone in his life outside the throng of fans that still hold on to The Ram of yesteryear.